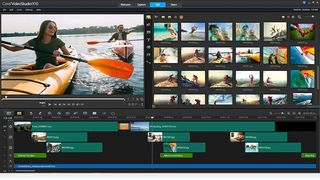 With the right piece of video editing software, you can turn long, frustrating hours sat in front of your computer into a pain-free task with coherent movies, dynamic short films and sharable videos as a result.
Click through to page two for our newly updated list of the best free video editing software if you're not ready to commit to a paid option just yet.
The video editors we've recommended in this buying guide are jam-packed full of features to turn your footage into celluloid gold. Whether you're using one of the 5 best laptops for video editing or another device, we've picked the best options to suit you. You'll find the best video editing software for Windows PCs, Mac and Android devices.
We also have a cheap option if you're on a budget, but still want something more capable than the free software. And there are brilliant choices for beginners and experienced video editors alike. Read on to discover the best video editing software for your needs.
1. Adobe Premiere Pro CC
The best video editing software for Windows offers a notable step up from Premiere Elements
Platform: Windows and Mac | Key features: Multi-cam editing, 3D editing | Video tracks: Unlimited | Free trial: Yes | Best for: Professionals and enthusiasts
Excellent automatic functions
Industry standard video editing tool
Free trial available
Pricey
Crank things up a notch to Adobe Premiere Pro CC and get an all-singing all-dancing video editor that's used by multitudes of industry professionals. And it's easy to see why it's so popular for Windows 10 users – it can handle an uncapped amount of video tracks, which can be imported from pretty much any source you can think of: files, tapes, cameras of all standards, and even VR. The automatic sync is a gem when you have multi-angle shots, and it's hard to fault the fine-tuning tools that really make your video stand out from the crowd.
2. Final Cut Pro X
The finest video editor you can get for your Mac
Platform: Mac | Key features: Muti-cam editing, intelligent colour balancing | Video tracks: Unlimited | Free trial: 30-day | Best for: Professionals and enthusiasts
Versatile and powerful editing
Brilliant interface
Makes sense for Apple users
Expensive
What Adobe Premiere Pro is to Windows PCs, Final Cut Pro X is to Mac users. It's the best video editing software for Mac. And, as you would suspect with Apple software, the must-have editor is consummately easy to use and comes packed with enough features to warrant the admittedly high price tag. We like the grouping tools, effect options and the simplistic way you can add and edit audio. If you're already entwined in Apple's ecosystem, you'll appreciate how Final Cut cleverly coordinates with your Photos or iTunes collections.
3. Adobe Premiere Elements 2018
Great all-round video editor to suit most users
Platform: Windows and Mac | Key features: Video stabilisation, face detection, automatic motion tracking | Video tracks: Unlimited | Free trial: Yes | Best for: Professionals and enthusiasts
Easy to use video editor
Loads of features
Not as powerful as some tools
Not the fastest video editor
Adobe is an instantly recognisable name to most, and its Premiere Elements 15 program is a great choice for both beginners and experienced editors. It isn't as complex as the more heavyweight Premiere Pro video editor (listed below), which is best suited to full-time video editing professionals. But Adobe Premiere Elements is packed with excellent features, such as face detection, audio effects and bundled soundtracks. And it's friendly to use, too.
Whether you're an editing newbie or a pro, automated functions – such as motion tracking and smart toning – will make your life a lot easier. And the same can be said of the video stabilisation option and simplicity of editing. Premiere Elements 2018 comes with all the video effects you'd expect in a consumer video editor: transitions, chroma-keying, opacity and so on. The media library is also intelligently organised, with smart searches making it easy to find finished and draft files.
4. KineMaster
Best video editing software for Android
Platform: Android, iOS | Key features: Instant preview, smart effects | Free trial: No | Best for: Beginners and lightweight professional use
Surprising amount of features
Good enough for professionals
Cheap editing app
Slow on lesser devices
If you think that trying to edit video on your smartphone or tablet is a pointless exercise, will make you think again. Available for Android devices, iPhones and iPads, we've highlighted this option as the best video editing software for Android because it goes way above and beyond what you'd expect from a mobile app.
It packs the ability to edit multiple layers, add handwriting and text annotations, experiment with up to four audio tracks and precisely edit at a frame and sub-frame level.
We could go on with a looooong list of features, but at this price it won't hurt the wallet just to download the video editing app and give it a try.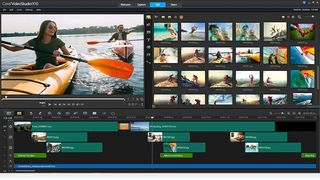 5. Corel VideoStudio Ultimate X10
Best video editing software for beginner
Platform: Windows | Key features: Real-time effects, colour correction | Free trial: No | Best for: Beginners
Really easy to pick up
Nice selection of features
Relatively inexpensive
Will be too basic for pros
offers a great way into video editing for novices. It's brilliantly easy to get going with straight away, thanks to its intuitive interface, but you won't find it wanting for features.
There's multi-cam editing, 4K video support, 360-degrees VR video support, a music library and loads of effects, to name but a few. Not bad at all for the price.
The more you use VideoStudio Ultimate, the more you'll notice and make use of its little features and flourishes. It's a great option for beginners, and still a pretty good option for more experienced video editors, too.
7. CyberLink PowerDirector 17 Ultra
Video editing software for experienced filmmakers
Platform: Windows | Key features: Multi-cam editing, 360-degree video, motion tracking (and loads more) | Free trial: 30-day | Best for: Beginners
Really powerful tool
Stacks of features
Surprisingly affordable
Tough for newbies
This one isn't for the faint of heart. CyberLink PowerDirector is a serious bit of software for serious video editors: this is excellent video editing software that delivers professional and high-quality features, without a Hollywood budget.
Get cracking on the 100-track timeline and you'll soon find yourself making the most of multitudes of stabilisation and video correction tools, professional effects, multi-cam editing, motion tracking and surprisingly easy trimming.
There's 360-degree video editing as well, together with support for all the file standards and formats you can imagine. And if you're finding it all a bit of a struggle, then there are plenty of video tutorials to help to get you sorted.